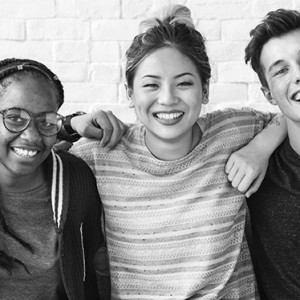 Harnessing your Personal Excellence – half-day course
This highly interactive course is designed help young people perform at their best for interviews. Harnessing Your Personal Excellence supports young people to confidently present themselves, understand their personal brand and overcome self-limiting beliefs when interviewing with prospective new employers, university panels and when meeting senior individuals in general. Participants will work in a creative and fun environment, learning influencing skills through the application of psychology, physiology, growth mindset and team work.
Benefits and Outcomes
Understand what self-confidence is, why we need it and how can we fully access it within ourselves.
Explore how we communicate verbally and physically and how this can have a positive and negative impact on our life chances.
Discover how we market ourselves to achieve success.
Practice influencing skills in an energising team challenge.
Learn how to best use Expansive Posture to positively influence others and ourselves.
Develop our own personal brand, led by our own values.
Here's what a returning previous client has said about this workshop at their school:
"Thank you for leading the workshops yesterday. Our select group said it was inspirational and came away with a toolbag of tips and strategies to take forward to interviews, and life in general."
Elizabeth McKinley, Director of Futures, St Helen's School Lead facilitator
Scene Change
Scene Change Creative Consultants specialise in Diversity in Leadership talent pipeline development programmes. Shortlisted for several Diversity Awards for programmes such as Coaching Squared™, particular focus is on promoting the pipeline of diverse talent by unlocking people's strengths and helping them build powerful relationships through focused networking to enhance personal and professional progression.
About Mairi McHaffie
Mairi McHaffie is the lead trainer on the Harnessing Your Personal Excellence programme. Mairi is an Impact Expert and CEO of Scene Change Creative Consultants, providers of bespoke people development and talent initiatives across sectors. She is Director of Coaching Squared™, an award nominated cross organisational leadership development programme spanning the diversity strands, which has been shortlisted for several diversity awards and is registered on the Civil Service Learning Framework.
Mairi is founder of the House of Commons Women into Leadership (WIL) programme and has designed and delivered successful Presentation Skills workshops for their Senior HR Leadership Team.
She is also the Coca Cola European Partners Storytelling Expert for their Global Women in Leadership Programme, a Senior Trainer for KPMG Civil Service Learning and Associate Trainer for many other global consultancies with whom she delivers high level role-play sessions on Client Relationship Building.
As a trained professional actress and BBC TV presenter, Mairi uses her skills to enable individuals and groups to communicate and present better, build confidence, increase visibility and align personal branding to organisational values.
As a sought-after speaker, Mairi regularly speaks across the City, with practical sessions on confidence and influencing skills combining her theatrical training with business and social psychology.
Mairi has been a judge on the BBC Apprentice Final, as part of a team of business experts assessing the market potential of a key product, and is a judge for the prestigious WeAreTheCity.Com Rising Stars Awards for female pipeline talent across industries. She is the mother of two young boys, a School Governor and occasionally dabbles in stand-up comedy.
FAQs
Each Harnessing Your Personal Excellence workshop can accommodate up to 20 participants – if you have a larger year group, we can run two workshops simultaneously, if required, and/or one morning and one afternoon session.
This workshop is suitable for people of all physical abilities.
All our Facilitators are DBS/ Disclosure Scotland checked. Documents can be provided.
To find out more or arrange a workshop, please call 020 7060 2067 or email info@scenechange.co.uk.